Coffee lovers: a winning combination of innovations!
Our winning combinations for coffee at home (or in the office): CAPS ME and DELISSEA.
We explain why we chose these 2 complementary brands from our catalogue of Foodtech innovations.
We have found 2 innovations that will satisfy coffee lovers. You can use them at home or in the office or give them as gifts, as they are also original and 100% useful gift ideas.

With growing concerns about the environment, more and more people are looking for ways to reduce their impact on the planet. One way to do this is to switch to reusable solutions for our daily coffee. That's where Caps Me brand reusable capsules come in.

Caps Me brand reusable capsules are an environmentally friendly alternative to disposable capsules. Made from durable and resistant materials, these capsules are designed to be used again and again. They are compatible with Nespresso coffee machines, and are easy to fill. Simply fill the capsule with the ground coffee of your choice, close it and place it in your Nespresso coffee machine. After use, simply empty the capsule and rinse with water to reuse.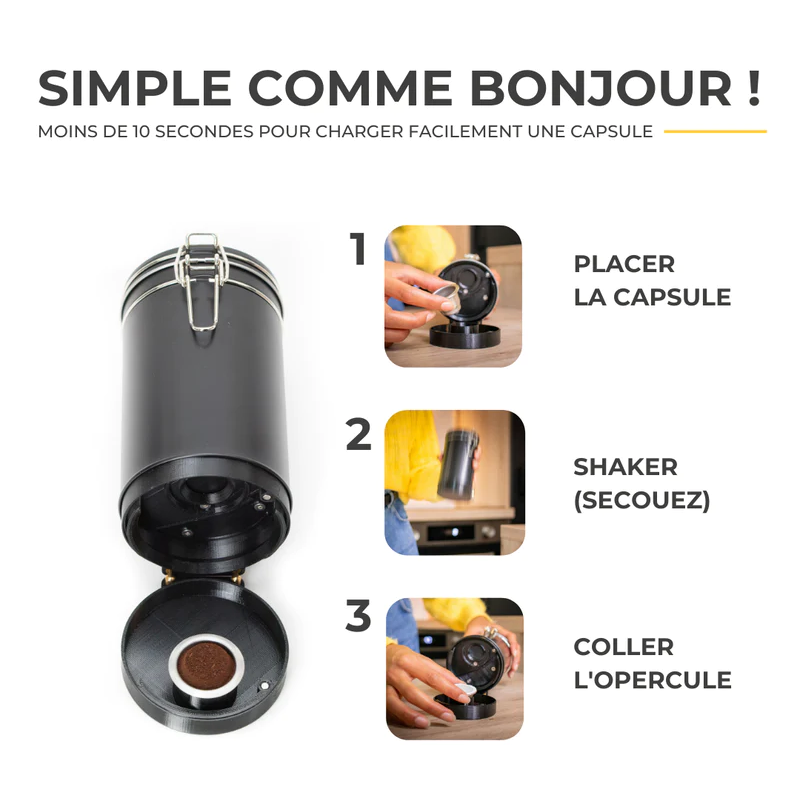 The advantages of Caps Me reusable capsules are numerous. First of all, they are ecological. By using these capsules, you avoid throwing away disposable capsules that can take years to decompose. In addition, by reducing your waste, you are helping to preserve the planet for future generations.

In addition, Caps Me reusable capsules are economical. Although they may seem more expensive up front than disposable capsules, they save you money in the long run. By using loose ground coffee, you often pay less than buying disposable capsules. In addition, reusable capsules can be used over and over again, which means you won't have to replace them as often as disposable capsules.

Finally, Caps Me reusable capsules also offer a wider variety of coffee choices. With disposable capsules, you are limited to the choices offered by the capsule manufacturers. With reusable capsules, you can use the ground coffee of your choice, which means you can try different types of coffee and find the one that suits you best.

Coffee lovers know that the quality of the coffee-making utensils is just as important as the quality of the coffee beans themselves. A high quality porcelain espresso cup can make all the difference in the experience of enjoying a good cup of coffee. DELISSEA brand porcelain espresso cups are an excellent choice for coffee lovers looking for superior quality and a perfect tasting experience.

DELISSEA cups are made of high quality porcelain and are designed to keep the coffee warm. Porcelain is a material that is known for its ability to retain heat, making it an ideal choice for espresso cups. Porcelain is also very durable, which means that DELISSEA espresso cups are made to last.

DELISSEA cups are also very elegant and stylish. The shape of the cups is designed to allow for the thick creamy foam that is one of the signs of a good espresso. And above all, the spiral inside will help the coffee's aromas to come out. There is no point in selecting a speciality coffee if it is then to be drunk from an ordinary cup!

Secondly, the DELISSEA espresso cups improve the quality of the coffee experience. The cups are designed to maintain the temperature of the coffee, allowing you to enjoy it hot and take full advantage of its aroma and flavour. The creamy, thick foam that forms on the surface of the espresso is also retained by the shape of the cup, allowing the texture and taste of the coffee to be fully enjoyed.

Delissea has designed cups suitable for all drinks: espresso, lungo, cappuccino, chocolate... 



The proof is in the pudding: with CAPS ME you will be able to select the best coffee and simply fill your capsules in Nespresso format. And to finish with a perfect experience you will enjoy your coffee nectar in a cup with an exceptional design that will give your coffee its full flavour.
Comments
No comment at this time!
Leave your comment